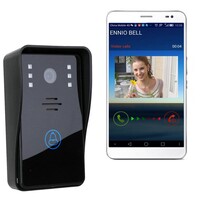 Buy Doorbell with Camera at Djoozy

Doorbell with Camera: A smart solution for a secure front door.

The Doorbell with Camera is a popular gadget.
Using a video doorbell makes it easy to secure your home.


What Are The Biggest Advantages Of A Doorbell With Camera?
Determine who is standing by the door with photo or video
Look without being seen
Reply remotely
Thus, a doorbell with camera creates a safe feeling, even when you're not home.


What are the possibilities of a Doorbell with Camera?

Depending on the product chosen and your situation, choose a doorbell that suits you.
The main item of these doorbells is the camera.
Using the camera, you can see who's on the doorstep. This makes your recordings, such as a photo or video. For example, you can see who has stood by.
Active answer remotely. If you're not home, you can answer the doorbell using a Smartphone App. For example, you can give instructions to the package wizard. Or say hello to the neighbor.
Security when you go on holiday. The d
Office at home? Using the doorbell with camera and LCD screen, you can see if there is a customer at the door.
There are several digital doorbells, which we gladly inform you about.

Digital Door Spy
This digital door spy replaces the normal door spy in your front door, using an indoor and outdoor unit.
The Digital Door Spy features a camera and display, and lays down who's in front of the door.
As soon as it is touched, the screen will be active, and you can see who's on the doorstep.

Buy a Digital Door Spy if you first want to see who's on the door, and want to capture it. Also useful for children and the elderly.


Wifi Doorbell with Camera
The Wifi Doorbell with Camera is the most advanced doorbell.
Using a Smartphone App and a Wifi signal, images are forwarded.
This way you can see who's on the doorstep.

With a microphone and speaker you can communicate with the person who is calling.
The app also captures images.


Doorbell with Camera LCD
The Doorbell with Camera LCD is a variant that features a portable LCD screen.
For example, put them on your desk in your office, or hang up on the wall in the hallway.

This doorbell also features a camera and voice / listening function.
Ideal for offices, home office or if you want to see who's there in several places.
Choose your front door gadget today. Create a secure front door.