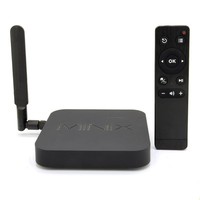 Minix Media Player with Kodi
A Minix media player makes the TV the focal point for all your media experience: the internet, watch TV, install apps and streaming media, all via a single device.

Media player for the living room or office with access to thousands of apps, media and the Internet. The products in the Minix Neo series are in the top of the currently available technologies and quality for media players.
---
Minix Neo series
In 2008 Minix began work on making their technology for media quickly and easily available.
The Minix Neo series is a long-term line of quality products aimed at home entertainment.

Minix is focused on new technology and quality to bring to the living room.
The series began with the Minix Neo X5 and X5 mini. After several years of good service, the X5 has now been phased out.

The Neo series often consists of two flavors, such as an normal, and mini-version, for example in the Neo X7 and X7 mini. The difference in this is reflected in the size of the product. The miniseries are much smaller and lighter. The big brothers often have slightly more memory and storage, and a larger number of connections.
Other examples of differences are the Neo X8 Plus and Neo-X8 H Plus, wherein the H-variant goes a step further in speed.

Finally, there is a series with Intel processor onboard, the Z64 in Android and Windows version.
---
Minix The right choice
A short introduction of the different models:

Minix Neo X8H Plus
Complete with great A2 Lite Remote
Gigabit LAN for high speed network
fastest memory

Minix Neo X8 Plus
Lower price with almost the same specifications
Large memory for your favorite apps
dual-band Wi-Fi and air firmware over the air
X8 Plus is being phased out.

Minix Neo Z64
Equipped with Intel processor for the best performance
choice of Android or Windows 10 version
good choice for office

Minix Neo U1
Everything for speed
Minix first with Android 5.1 Lollipop
64-bit processor
Gigabit LAN

Minix Neo X7
External Wi-Fi antenna
Quad Core processor
2GB RAM

Minix Neo X7 mini
Small and compact model
Suitable for digital signage
reliable hardware
---
Minix software
The Minix media players come with Android or Windows operating system.
Android is a fine system that is easy to use and has come from smartphones.

The Minix Neo series with Android come in two variants with Android 4.4 KitKat or Android 5.1 Lollipop.
The versions with Android OS give you access to the Google Play store, where you can find thousands of apps and install them. Your favorite TV app, games and news have been installed with a few clicks: Kodi example, Angry Birds or Horizon Go app.

The latest products in the Neo series, including the X8-H Plus, X8 Plus and U1, come with handy FOTA: firmware over the air. Minix brings an update for the firmware, you can download this easily yourself via the device and install it. Thus, the product is always up to date.
---
Minix FAQ
Q: Buy a product Minix in Amsterdam, The Hague, Rotterdam and Utrecht?
A: Whether you live in one of the big cities or the countryside, your favorite Minix product you order easily in our webshop. This is available 24 hours a day.
 
Q: How quickly will my Minix Neo series delivered?
A: Do you have a Minix Neo product today and is in stock, then you have tomorrow.
 
Q: How long is the warranty?
A: We give you a year warranty. 12 months you can inquire about problems with us. We provide a solution or replacement.
 
Q: How can I operate this unit the best?
A: There are several options, from the standard remote control, to the Minix remote. See our offer for a Minix remote.
 
Q: Will this device be up to date?
A: Minix offers firmware over the air (FOTA) solution for various products. So your media player stays with the latest improvements.