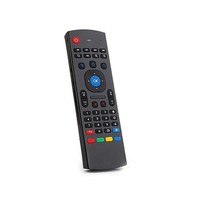 TV Box remote for Android TV Box
Take control - Control your Android TV box with a universal wireless keyboard.
Android wireless remote for ease of use while browsing the Web, search, and serve.
Best Accessories for Android TV box.
 
Ease of use
Keyboard and mouse function
Easy to connect, no installation
Runs on battery or rechargable battery
Universal remote control for android TV box
If you want to operate the android TV box you have three choices:
Use the standard remote control.
Choose a smartphone as a remote control, such as XBMC remote app as Yatse.
Or go for a tangible product with features like these mini keyboards.

The great advantage of this Android TV box remote controls is that they are not only equipped with a full keyboard and mouse function, but they are universal. The Android remote control so works on any Android TV box model, but also on Windows.
Suitable for all android TV box variants
Suitable for PCs with Windows
Ideal for home or office use
Control your TV Box - connect remote
If you buy a remote control for your TV box, then operating becomes a lot easier.
The standard remote control is limited to the most basic functions, but now you'll have a full keyboard shortcuts and mouse function. Connecting is easy
open package
Remove USB dongle and insert into USB port
Place battery or charge battery
Enable remote control
Air mouse keyboard or wireless mini keyboard?
There are various models; What are the main differences and what should I look for?
There are two categories Android remotes:
Air mouse keyboard with built-in gyroscope (sometimes called flymouse) Mini keyboard with mouse function, the mouse portion and a small touchpad is integrated.
In addition, an important difference to the power supply. Which may consist of a rechargeable battery, or batteries.
TV Box Remote Control FAQ
Q: Those these remotes work on all Android TV boxes?
A: Yes, the universal remotes work on all Android TV boxes and even on Windows.
Q: Why have a remote control in addition to the standard remote control?
A: You will increase your ease of use greatly by the keyboard and mouse functions they offer remote controls; while browsing the Web, playing games or control of your Android TV Box.
Q: What applications can I control?
A: From Android to Netflix and Kodi, from YouTube to the Internet browser and media even pause or turn the sound louder and softer, everything.
Q: What is a flymouse or airmouse?
A: A flymouse or airmouse is a remote control with built-in gyroscope. Use the flymouse feature, you point the remote control where the cursor should go. So you do not slide your finger over a touch pad, but moves the remote control.