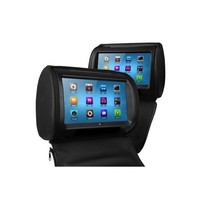 Xtrons car dvd player
Make long car trips enjoyable with a Xtrons car DVD player .
Universal solutions for watching movies and photos and listen to music in almost all cars.
Watch DVDs, play videos from USB or SD card, or listen to music.
DVD screens in the headrests of the car come in two flavors:
Headrest DVD players by the complete replacement of the headrests provide a permanent solution.
Portable DVD players are easy to install to the existing restraints.
 
All products are equipped with a Sony DVD lens.
Xtrons DVD player restraints
A screen in each headrest and wiring neatly hidden by the chair. Your system connected to the ignition and extended capabilities; that the DVD player restraints Xtrons.
A universal solution for almost all cars *.
This car DVD player with two screens come up with its own DVD player, but can also display the other player's screen.
 
This range comes in two flavors:
Headrest DVD player with 7 inch screen
Headrest DVD player with 9-inch screen
HD705 - a set of two head restraints with its own DVD player, digital display and gamepad.
HD706 - set of two headrests, with remote control and SD and USB port.
HD908T - best-selling model with 9-inch touch screen, and extensive options.
HD905 - cheapest 9 inch car DVD player, set of two screens.
* Important: Replace any restraints that are equipped with airbags and active systems.
Portable DVD player Car - DVD player and screen in one
Does your car active head restraints and airbags in the head, then replace your headrest DVD headrest is not an option; Safety comes first.
Want a temporary application for watching movie in the car, the following products are ideal:
 
Xtrons HD101
This mount can easily head to the feet, feed it, and ready your movies on the go.
This variant buy each, and features a large 10.1-inch screen.
DVD player in the car is a recent development and equipped with all common options. Even connect at home is possible with a special adapter.
See Xtrons HD101 specifications.
 
HD101T
The HD101T extra addition is a touch screen. Easy operation, even for children, is within reach.
The advantages of these products are a simple installation, thin, light weight, and yet all the possibilities.
 
HD7 Mini
The smallest portable car dvd player from Xtrons.
A new, easy to use model, with a great screen, dvd player and touchbuttons.  
Audio solutions for Xtrons car DVD player
Xtrons supplies its products with three audio capabilities. This broad choice there is always an appropriate application.
Listen film and music through the following channels:
Built-in speakers of the device
Via infrared headphones (also supplied by Xtrons)
Through the car's speakers: voice your local FM frequency down, and catch the signal from the DVD headrest or portable DVD player

Check Xtrons infrared headphones.
Xtrons applications
Of course, you can watch movies and videos with these products.
But audio playback, or viewing photos is possible.

Choose from four types of sources makes you rich options:
Watch movies or listen to music on DVD or CD
Photos look done with a USB stick
SD connection you use to instantly view photos from your camera
HDMI port for connecting to other devices, such as smartphones
And would you mind not using the DVD screens, then this neat zipper closed. So dirt and dust stay outside.
FAQ
Q: Buy Xtrons restraints in the Netherlands?
A: Through our webshop you can order Xtrons products 24 hours a day.
 
Q: Are these DVD screens suitable for all cars?
A: Almost all car brands can have DVD headrests mounted or a portable DVD player. We have customers who drive Mitsubishi, Mercedes, Volvo, Audi, BMW and Opel.
 
Q: When can I not use the DVD headrests?
A: The DVD headrests can not be placed in cars with active head restraints, or restraints with integrated airbags. Safety first. The replacement of the headrests could confuse the systems of the car.
Opt for the other product line, in which the players are fastened to the main legs.
Q: Do you have installation service of these products?
A: No, but most garages and installers can perform quickly and professionally for you. We have good experiences with Weijtec Inbouwcenter in Zaandam.
 
Q: What colors are available?
A: The products are usually available in black, gray and beige. Most car upholstery and interior colors fit well in here.
 
Q: Can I coat the head with different colors or leather?
A: We will deliver the goods in three standard colors. Perhaps a professional company in coating can help you.
 
Q: Can I order spare parts or a single head?
A: Xtrons products are standard products with a set price. We supply the products as they are presented on the website and supplied by Xtrons. 
 
Q: How long is my warranty?
A: 12 months on the product. Repair or replacement is through our webshop.